Santa Ana's food culture is steeped in tradition, so it should come as no surprise that the city has perfected the ultimate American culinary tradition: the burger. From unpretentious old-school joints to new cult-favorite smashburger spots, Santa Ana knows how to make a good burger. With the extensive taco scene and the litany of breweries, you might not come to Santa Ana looking for a burger. But Santa Ana's riffs on the classic beef and bun combo might make you reconsider your obsession with corporate, fast-food burgers. Explore these Santa Ana favorites and find your newest burger fixation.
I'll start here— the hype is deserved. What started as a backyard burger in 2020 and eventually led to a brick-and-mortar in 2021 is now one of Santa Ana's most talked about burgers (nearly every person I met in Santa Ana sent me here). From the patty's perfectly-crisped edges to the play between the crunch of the pickles and the creaminess of the sauce, the Classic Hammer is satisfyingly messy and straightforwardly delicious. Combined with the soft potato bun and gooey American cheese, this burger is both a handful and a mouthful. Plus, don't miss the self-serve sauce station— the Chipotle Mayo and the Garlic sauce are the perfect accompaniments to their shoestring fries. (Pictured above credit Emric K. @Yelp)
Nestled in Downtown Santa Ana, Chato's Bar & Grill presents an 8 oz black Angus burger that's been creating a buzz in the community. This burger perfectly embodies Chato's mission: blending authentic Mexican flavors with a California twist. Chef Sergio's creation is a harmonious blend of flavors, featuring a juicy patty, American cheese, fresh lettuce, tomato, and a zesty house sauce on a toasted brioche bun. It's indulgent yet balanced, a culinary masterpiece. Chato's is known not only for its exceptional cuisine but also for its agave-inspired cocktails.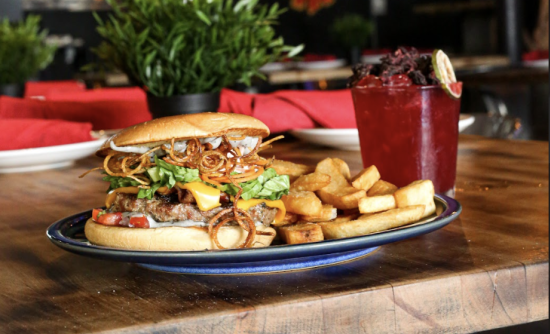 The elixir for a bad day and the icing on top for a good one: a tasty burger and a cold beer. Native Son supplies both. A rooftop bar with 23 rotating taps of beers, including their own brews, seltzers, and ciders plus a playful cocktail list, Native Son also offers a solid selection of burgers. For a simple, straight-up bar burger (minimal frills and good bite-to-mouth ratio), go for the Santa Ana burger. A beef patty topped with American cheese, house sauce, caramelized onion, and the standard lettuce/tomato fixings, this burger strikes the balance between savory and jammy without getting soggy. Plus, it's just as good before 2 pints of beer and 3 specialty cocktails as it is after.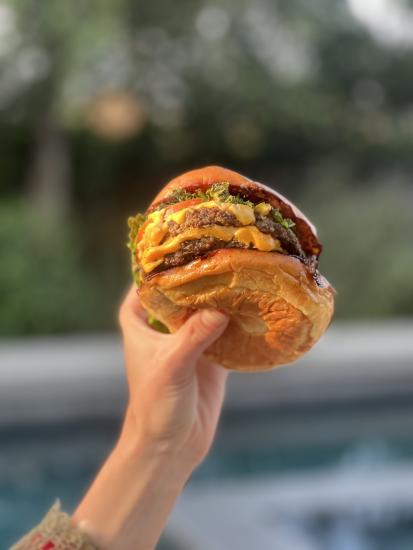 TK Burger: The Old-School Burger
A beachy burger shack that's actually tucked away in an industrial park, the Santa Ana TK Burgers exudes an old-school burger joint energy. With its unpretentious menu and killer prices, it's fast food that actually feels authentic and tastes really good. The charbroiled cheeseburger here is stacked with the classic lettuce, tomato, onion, pickles, and sauce outfit for a burger experience that is equal parts delicious and nostalgic. Plus, add on their perfectly crispy fries for the OG Big Bargain Special. Simply put: there's nothing over the top about TK Burgers and that's the best part about it.