Santa Ana is home to nearly thirty different cannabis shops and deliveries.  Experiences range from large-scale attraction-style shops to hyper-local off-the-beaten-path boutiques featuring Santa Ana craft cannabis makers and artisan products on display.
 
"From the beginning, Tropicanna aimed to redefine the perception of cannabis," shares Rooz, the owner, and creator of Tropicanna, a legacy cannabis shop in Santa Ana. Since its inception, Tropicanna has been fueled by the passion to create an elevated, sophisticated, and responsible environment for visitors. 
 
The founders of Tropicanna created a friendly atmosphere where cannabis can be appreciated for its complete therapeutic potential, as well as its cultural significance. Tropicanna's founders believed in fostering a welcoming and inclusive community that celebrates responsible cannabis consumption, education, and exploration. 
 
The Tropicanna Experience today is a one-of-a-kind journey that encapsulates the essence of cannabis in a way that's both unique and special for every visitor. It's not just a dispensary; it's a cultural hub that blends art, education, and community while highlighting locally made Santa Ana products.
 
The Tropicanna experience is characterized by:
 
 Artistic Ambiance: Tropicanna's interior design is a visual spectacle, seamlessly blending natural elements and modern aesthetics. The space serves as a canvas for local and international artists, creating an ever-evolving gallery that intrigues and delights.
 
Educational Initiatives: Tropicanna takes pride in educating visitors about responsible cannabis use, its history, and its potential benefits. Regular workshops, seminars, and expert-led discussions enrich the experience and empower individuals to make informed choices.
 
Community Engagement: Beyond being a dispensary, Tropicanna is a gathering place where like-minded individuals can connect, share experiences, and appreciate cannabis culture together. It's a safe space to ask questions, learn, and grow.
 
Curated Selection: The carefully curated cannabis products range from classic cannabis strains to innovative new locally made and crafted products. Tropicanna's offerings cater to various preferences and experiences, ensuring there's something for everyone.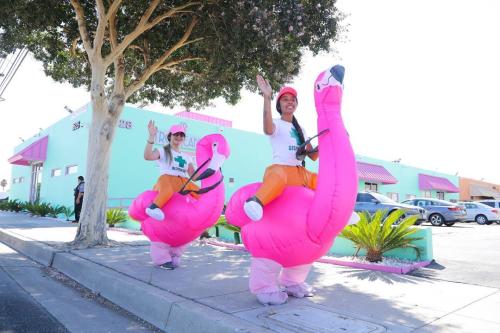 The friendly Tropicanna staff recommends the following
Santa Ana experiences: 
 
1. Downtown Arts District: Explore the vibrant arts district, where galleries, theaters, and creative spaces come together to showcase local talent.
 
2. Bowers Museum: Immerse yourself in world cultures through diverse exhibitions and art collections.
 
3. Chicken Maison, a local hidden foodie gem. This charming eatery offers a fusion of Mediterranean and Californian flavors. Their citrus-infused dishes and fresh ingredients create a delightful culinary journey.
 

A friendly reminder, cannabis consumption should always be done responsibly and in accordance with local laws and regulations. 
Enjoy the journey, both inwards and outwards!