What makes My Green Network special?  
We have a super fun facility that people like to call the "Willy-Wonka" of cannabis and we make everything from edibles to some of California's best live rosin.
Yet, what makes us special is our community and culture.
Our vision at My Green Network is to create a community of leaders to inspire the next generation of cannabis innovation. Since opening in 2022, we have been honored to be home to California's top craft cannabis brands like Oui'd Confections (1st place Edibles Emerald Cup 2023), Minerva (Best Packaging, Adcann Awards 2022), and En-tranced (Most Unique Product, Farmer's Cup 2023).
Over the last year, we single-mindedly dedicated ourselves to perfecting what we do. As California's premier cannabis shared-use facility, we focused on delivering the best platform to streamline legal entry into California's market and support our brands' operational success. As a cannabis contract manufacturer, we are trusted by California's leading cannabis brands to make their products found in over 600 California dispensaries.
This all originates from our core culture, when our partners succeed – we succeed.
Why did you choose Santa Ana as home for my Green Network?
Santa Ana is SoCal's #1 cannabis hub. It has a deeper and richer cannabis culture than any other city in Orange County. Santa Ana was the first city to legalize cannabis in Orange County. It is perfectly located between Los Angeles and San Diego and the retail partners we have found here have poured their heart and soul into creating community-driven shops.
The city has shown its support in trying to help its licensees operate successfully by reducing supply chain taxes to competitive levels and approving cannabis lounges, and cannabis events. What's even more interesting is the Travel Santa Ana program, it's the first of its kind in Orange County, and being able to publicly create a cannabis-friendly tourism industry is just amazing.
We see Santa Ana and Orange County as not only the future cannabis business hub of California but also a go-to destination to smoke, eat, and play.
Tell us about the My Green Network Cannabis Workshops, by appointment only?
We create and offer cannabis workshops for consumer education. Education is greatly needed as cannabis emerges from prohibition and the era of Reefer Madness propaganda.
As a consumer, have you ever thought about the maker and team who poured their heart and soul into making their product for you to enjoy?
We have Michelin chefs, master confectioners, and hashishin artists producing ultra-quality premium products. Yet, these unsung heroes that bring the best cannabis products to market are constantly being told by retailers that the only things consumers care about are deals, price, and potency. We like to think that consumers want more than just "getting high."
A really good example is that people are willing to pay $5.00 for a Godiva chocolate, but when it comes to an award-winning, single strain, live rosin-infused chocolate bonbon hand painted and crafted by Michelin chefs like Oui'd Confections – they are unwilling to pay the same.
The workshops we want to offer will help create conscious consumption by highlighting DIY cannabis products, what separates bad, good, and premium cannabis products, and how to navigate the legal cannabis industry as a cannapereneur or cannaseur.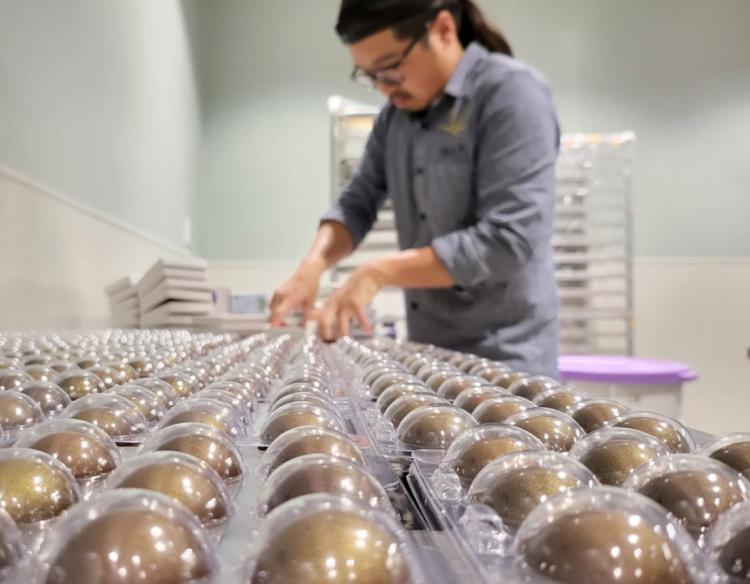 What are some standout experiences at My Green Network that you recommend to visitors?
One is to try the Santa Ana local, artisan-crafted cannabis products produced out of our facility. Our community prides itself on never compromising on quality and starting with the best ingredients. You can find our community's award-winning cannabis products at local partners like Tropicanna.
Secondly, our educational workshops. For example, My Green Network will be hosting one of the most sought-after hash making classes in the world – Frenchy Cannoli's Lost Art of the Hashishin Workshop with Madame Cannoli and Belle. People travel from all over the country and world to attend this event for the opportunity to learn how to make hash and network with the greatest hashishins of our time.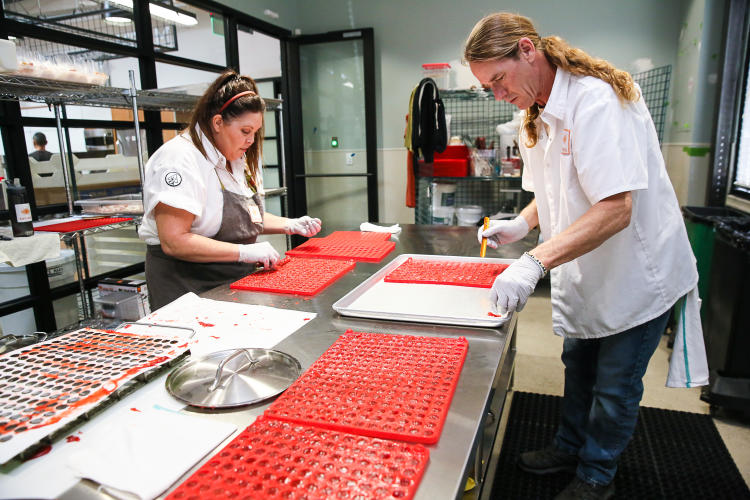 What is your favorite local food and restaurant?
There is a ton of great Mexican food here in Santa Ana, one of my favorite things is just trying out all the taco trucks! If I have the time, I'll go to Taqueria el Zamorano (pictured) for some great, affordable Mexican food. If I want to spend a little extra, I'll head over to 701 Restaurant & Bar for a more upscale version.
What cannabis-enhanced experience do you recommend in Orange County?
I would start off by visiting some cannabis dispensaries. I am a bit partial to Tropicanna because I think they are the fairest with their pricing, their team truly cares for their customers, and they have a complete, local Santa Ana cannabis shelf which means you can truly try Santa Ana-made cannabis products. There are of course other cool spots like Butter which has an indoor grow attached, Peoples, and Ashe Society.
After getting your product of choice, there's a lot of fun stuff to do. If you're here on the 1st Saturday of the month, check out the Downtown Santa Ana ArtWalk.(pictured) In the evenings or on weekends, the Blue Lot usually has something going on with live music, food trucks, and more.
I'm a foodie at heart, so my favorite thing to do is try out new food and spots to eat. There's a ton of fantastic Asian food like Din Tai Fung for xiaolongbao and much, much more!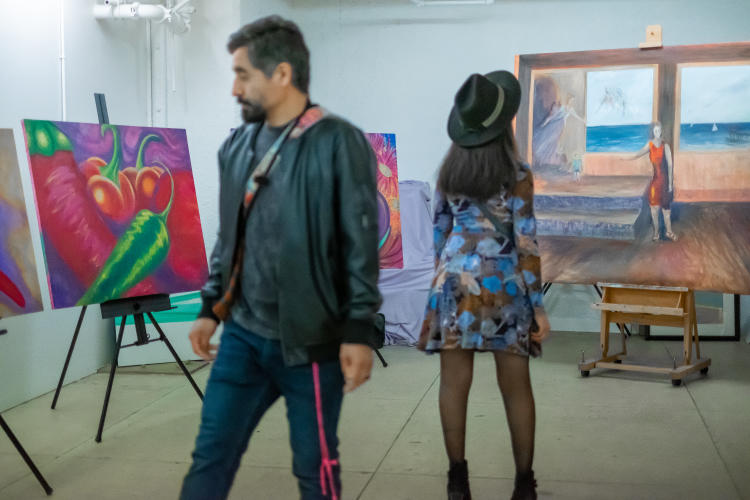 JAMES SHIH – CO-FOUNDER, My Green Network 

James (pictured in the header image) is the co-founder of My Green Network, California's premier cannabis cloud kitchens. My Green Network has become California's fastest, most affordable, and professional method to enter the legal cannabis industry. My Green Network also stands out as one of California's top cannabis private labelers producing quality gummies for California's biggest brands with products in over 600 stores statewide. With an extensive network in the cannabis industry and investment world, James has created multiple "first of its kind" solutions such as developing city-wide policy, local artisan crafted shelf-space, and partnerships with retail groups and publicly traded cannabis companies.
As a senior partner of an internationally recognized boutique investment immigration law firm, James has advised high-net-worth clients in over 27 countries in investments valuing over $1 billion. Bringing his core beliefs of transparency, professionalism, and communication along with his experience, James is transforming the cannabis industry by creating real, successful solutions for the cannabis industry.

My Green Network is California's premier cannabis cloud kitchens. As California's only intentionally designed shared-use space utilizing California's Type S License, My Green Network has become the "green" standard for shared-use spaces. Home to California award-winning brands like Oui'd Confections, Minerva, and Entranced, My Green Network provides a practical, affordable solution for serious cannapreneurs focused on how to financially succeed in California's cannabis industry without cutting corners. My Green Network also private labels cannabis gummies and top-tier solventless products for California's biggest name brands which are sold in over 600 California dispensaries.