At the Alta Baja Market in the heart of downtown Santa Ana, you can expect to find a spread of foods, drinks, crafts, and goods that reflect the vibrancy of the cultural intersections between California, Mexico, and the American Southwest. What you might not expect to find— California's largest collection of Mexican wine.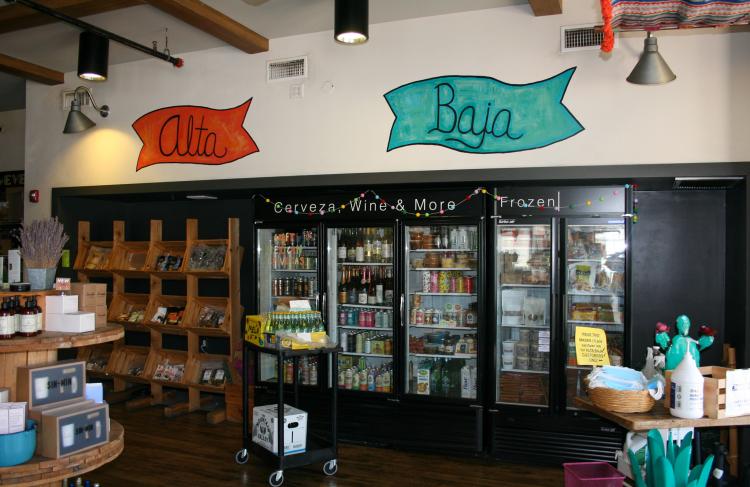 With 65 bottles and counting, Delilah Snell's inventory is the largest collection of Mexican wines in California. Despite their geographic proximity, Mexican wines have remained just on the edge of mainstream popularity in the US for over a decade now. From the extensive in-store selection to the Baja Wine Club, Delilah Snell is changing that one bottle at a time in the 4th Street Market.
Since 2016, Alta Baja Market has focused on honoring the flavors and ingredients that come from both sides of the border. Pairing her retail expertise with her desire to bring more attention to border culture, Delilah drew inspiration from European grocery stores and Latin American mercados to create the welcoming, eclectic energy of Alta Baja Market. What began as a specialty grocery store seamlessly evolved into a café-market-educational space hybrid that celebrates both Santa Ana and its Mexican heritage.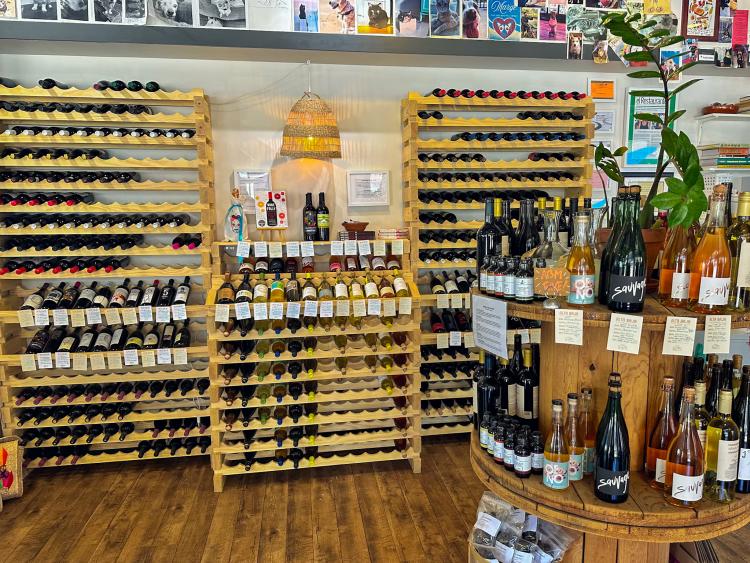 In 2020, Delilah added another layer to the concept by introducing a unique wine selection to the shop. She self-declares as "not a wine expert" but instead "just a person who enjoys wine." Even without the "expert" wine knowledge, Delilah has curated a strong selection of wines for every type of wine drinker. From of-the-moment natural wines to classic crowd favorites, Alta Baja's wine selection is both substantial and diverse, but it's truly the collection of Mexican wines that takes center stage. Approachable, interesting, and (most importantly) delicious, Alta Baja's Mexican wine selection gives you the chance to experience and appreciate Mexican land and culture through wine.
Brief tasting notes under each bottle give you the chance to browse endlessly and assuredly, even when you have no idea what you're looking for, and prices hover around the $20-$30 range. In addition to the tried-and-true favorites, Snell is steadily expanding the bottle list with wines from Mexican wine regions that are still relatively unknown in the States. And for those looking to explore Mexican viniculture even further, the Baja Wine Club offers carefully-curated bottle selections alongside tasting notes, pairings, and other complimentary goodies.
What's Delilah drinking right now? El Bajio Sparkling Brut Rosé, a wine from Querátaro, a city in the heart of Central Mexico. The wine is elegant yet playful and tastes overwhelmingly like freshly picked strawberries ("strawberry vibes," according to Delilah). It's deceptively refreshing— an easy pick for daytime drinking. If you're looking for something to enjoy after the sun sets, pick up the 2020 Bruma Plan B, a luscious red blend from the Valle de Guadalupe. Balanced and versatile with notes of stewed berries and spice, this wine is a capital R Red without being too stiff or serious.